Appi Payasa

– Shree Rao
The name Yugadi or Ugadi is derived from the Sanskrit words yuga (age) and ādi (beginning): "the beginning of a new age". Ugadi or Yugadi is celebrated on 31st March 2014 in Andhra Pradesh and Karnataka. It is New year according to Luni-Solar calendar. This day is celebrated by eating Bevu-Bella which symbolizes the fact that life is a mixture of different experiences (sadness, happiness, anger, fear, disgust, surprise), which should be accepted together and with equanimity through the New Year. Today I am bringing you a special payasa which is quick and easy to make.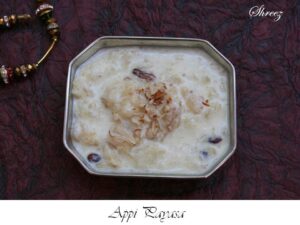 You need
Chiroti Rava – 1 cup
Milk – 1 ltr
Cardamom – 1 tsp freshly crushed
Khismish – 15
Almond – for garnish
Salt – 2 pinch
Sugar – 1/4 cup (as per taste)
Ghee – 1 tbsp
Oil for deep frying
Method:
Heat Milk in a thick bottomed pan
Keep stirring till it reduces to 3/4 ltr
In the mean time mix choiroti rava, 2 tsp ghee, salt and little water to make a firm dough
Make ping pong sized balls and roll out like poori
Heat oil in the kadai
Deep fry the rava pooris in the oil till they are golden brown
As they are made out of only Rava they will be crispier than the normal pooris
Crush the poori into small pieces and keep aside
Once the milk reduces to 3/4 ltr add the crushed cardamom powder and sugar
Stir on medium flame for another 4 mins
Add in the crushed poori.
Mix and keep stirring for another 2 – 4 mins on medium flame
In another pan heat ghee, add the raisins and fry till they start becoming golden in colour
Add the raisins to the payasa and remove from heat
Mix well
Let the payasa sit for 15 mins
The poori will absorb the milk and payasa will thicken
Garnish with Almond slivers and serve
Notes:
Payasa tastes better if it sits for more time (~ 2hrs)
If you feel the payasa is becoming drier, mix a cup of milk and 1 tbsp sugar to the payasa and bring the payasa to boil.