Kateel Shri Durga Parameshwari Temple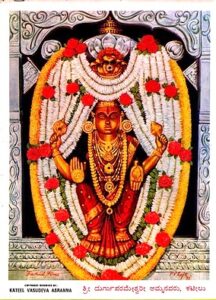 Kateel (also known as Kateelu) is a temple town located at a distance of 29 km from Mangalore city in Dakshina Kannada district. This sacred place is surrounded by panoramic scenes and attractive greeneries.
History: When Goddess Durga killed Shumbha and Nishumbha, Arunasura, one of the ministers, had fled from the battlefield and saved his life. Later he became the leader of the Rakshasas (demons). He began to disturb the sages and destruct their Yajnahs. As a result, the Devas stopped raining, which resulted in total draught and scarcity of water and food grains on the earth. Moved by the pathetic conditions of the people Maharshi Jabali, the great sage decided to perform a Yajnah to appease the Devas.
He approached Devendra and requested him to send Kamadhenu (a sacred cow) with him for the ritual. Since Kamadhenu had been to Varuna Loka, Devendra permitted the sage to take Nandini, the daughter of Kamadhenu in order to assist him as Homadhenu (symbolic cow for ritual) in his proposed Yajna. Jabali went to Nandini and put forth his request. In reply Nandini abused the earth and the people there and refused to accompany him. When the sage found that Nandini was firm in her refusal, he cursed her to flow as a river on the earth. As Nandini prayed Jabali for mercy, kindhearted sage advised her to pray Adhishakti to get freed from the curse. Accordingly she prayed Adhishakti. Pleased by her deep meditation Goddess appeared before Nandini and told her that she has to flow as a river as a result of the curse, because nobody can trespass the sentences (Rishi Vakya) of a holy sage. But she added "I shall take birth as your daughter in due course and purify you from this curse". Satisfied by this assurance Nandini emerged as a river from Kanakagiri on the day of Magha Shuddha Poornima and made the earth green once again.
Meanwhile Arunasura acquired a boon from Brahma, which made him free from fear of death by Trinity, Devas, men or women or by any two legged or four legged animals & creatures. Goddess Saraswathi also blessed him with Gayathri Mantra (Holy chants). All these made him the most powerful. He defeated the Devatas and conquered Heaven. Disheartened by disastrous defeat, the Devatas, along with Trinity pleaded Adhishakti for the rescue.
Goddess said that unless and until Arunasura is prevented from reciting Gayathri Mantra she too would not be able to destroy him. She suggested them to send Brihaspathi (Guru of Devatas) to distract Arunasura from his meditation of Gayathri, and make him get rid of Gayathri recitation so that she would be able to kill him.
Brihaspathi approached Arunasura, flattered him, poisoned his ears and succeeded in diverting him from his meditation. Now Arunasura vainly felt that he was more than God himself. He not only ordered his subjects to worship him but also troubled the sages and spoiled their Yajnas. As promised to the Devas, Goddess took the shape of Mohini, a charming woman and began to wander in the garden of Arunasura. Chanda & Prachanda, ministers of Arunasura saw her and informed the master about her beauty. Arunasura decided to marry her and approached her. When she turned deaf ears to his request & teased him for fleeing from the war field, in afraid of the lady who killed his masters Shumbha & Nishumbha, he became furious. When he tried to take her by storm, she disappeared inside rock. Arunasura broke the rock with his sword. Suddenly, a vast swarm of bees emerged from the rock and stung him. Devi had taken the form of a big, furious bee that is 'Bhramara' and stung him repeatedly till his last breath. Now the Devas and the sages led by Jabali performed "Abhishekham" (holy bath) to Devi with tender coconut brought from the Kalpavriksha of Devaloka, and prayed her to bless the world with 'Soumya Roopa' (tender posture). According to this request Devi emerged in the form of 'Linga' (symbolic holy rock) in the middle of the river Nandini and is known as Shree Durga Parameshwari.
'Kati' being the word which means 'center' (midway between the 'Kanakagiri' the place where the river was born, and the end, Pravanje, where the river joins the sea) and 'lla' means area. Thus the place is called 'Kati + lla' Kateel.
Main Events And Festivals:
Annual festival: This is celebrated begins in previous night of Mesha Sankramana day by decorating welcome arc followed by various themes of performance. Usually this festival comes in the month of April and celebrated for 8 days with unique feature in each day.
Laksha Deepothsava: This is celebrated on the day of Kartika Bahula Panchami.
Sharannavarathri: Beginning on Ashwija Shuddha Pratipada day, this festival is celebrated for nine day. Specially Ranga pooja sevas offered on this occasion. Lalitha Panchami, Maha Navami and Vijaya Dashami are the very special occasions during Navarathri festival.
Yakshagaana:
Sri Kateel Yakshagaana Mela is a famous Yakshagaana troupe. The Yakshagaana troupe, Kateel Sri Durgaparameshwari Yakshagaana Dashavatara Mandali, popularly known as Kateel Mela is an important 'Harake Seva' troupe. It performs on request by devotees who have taken a vow (Harake) to arrange a show of Yakshagaana for fulfillment of a desire or as a service. The Adhidevatha of Kateelu Kshethra, Shri Durga Parameshwari Amma is fond of Music, Dance & Yakshagaana.
Postal Address:
Shree Durga Parameshwari Temple
Kateel, Mangalore Taluk
Dakshina Kannada District
Pin Code – 574148
Phone: 0824-2200361/2200591/2200561
Distance From Kateel:
Mangalore: 29 km
Udupi: 45 km
Dharmasthala: 75 km
Moodbidri: 22 km
Nellitheertha Cave Temple: 8 km
Bappanadu: 14 km
How To Get There:
By Air : The Air port at Bajpe, just 16 kms from Mangalore city could connect the district with other major cities and other countries. Major airways services have been flying here. There is new Mangalore Port Trust that has been helping the people here for the transport of goods to and from Mangalore.
By Train : The Konkan Railways from and to Mumbai, Kerala-Mangalore Railways and Bangalore-Hassan-Mangalore Railways are the major railway services here. The Railway station Mangalore central is about 26 Km which is in the heart of Mangalore city,Surathkal is about 20 Km,Mulki is about 14 Km.

By Road : The district is well connected to other places by road, railways, air and even through water. The district has developed very good transport system as both Government and Private bus services have been flourishing here. All nooks and corners of the district could be reached by bus. The district is passed through NH 48 and NH 17 and this connects the district to other major towns in the country. Other state routes and special bus services make the public life lively here. The private bus services started plying to the places where the Government could not reach, thus helping the public to reach their destinations.